Express Links!!


Search Properties
for Sale by Conditions

Interesting Properties
zone in Thailnd outside Bangkok


Search By Ref.


Search Properties
by Location Only



Updated Scoop!!

What's news in properties market
Collection of Best
properties classifed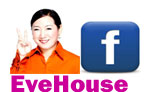 | | |
| --- | --- |
| Single House with Private Pool Sale Eakhamai-Ramindhra | |
Eakhamai-Ramindhra

359 Sqw.

On Main Road
Department Store, Super market

72,000,000 Baht

Single House with Private Pool

SI150513L001

5

7

Ekkamai-Ramintra Luxurious House with private pool Land Area 359 sq.wa. Living Area 800 sq.m. 5 bedrooms, 7 bathrooms, very open big living + dinging connected to European kitchen,Thai kitchen, Wine storage, Catering room, elegant wide front. breezy, beautiful garden, peaceful in high secured compound, full facilities. For Sale 72,000,0000 baht. Tel. 085-3651562 ------------------------------------------------ ขาย บ้านเดี่ยวพร้อมสระว่ายน้ำ หมู่บ้านติดถนนเลียบทางด่วน เอกมัย-รามอินทรา บ้าน 2 ชั้น ขนาดที่ดิน 359 ตร.วา พื้นที่ใช้สอย 800 ตร.ม. 5 ห้องนอน 7 ห้องน้ำ จอดรถได้หลายคัน ห้องนั่งเล่น + ห้องทานข้าว + ครัว กว้าง มีห้องเตรียมอาหาร ห้องเก็บไวน์ สระว่ายน้ำพร้อมห้องพักผ่อนริมสระ หน้ากว้างสวย หรูหรา อยู่ในหมู่บ้านที่มีรปภ.ตลอด 24 ชม. พร้อมคลับเฮาส์ ขาย 72 ล้านบาท โทร. 085-3651562




None

Last Updated: (05/02/2021)
However, we haven't onlined all of our properties listings (Because they need to be updated price and availibility) So, If you can't find any match to your requirements, we have more please simply let us know informations as below.
Your name and contact number
Your purpose (We now do sell and buy properties only)
Properties you look for (houses, land, building, shophouse)
The location you like or you familiar with
The buying budget
Your plan to buy